Checkerboard Cake
Ingredients
FOR THE CAKE:
1 cup butter, softened
1.5 cups granulated sugar
4 eggs
2 cups of GF all-purpose flour
½ tsp salt
2 tsp baking powder
¾ cup milk
2 tsp vanilla extract
2 food dye colors (you can do any colors - I did blue and green; 20 drops per color)
FOR THE BUTTERCREAM FROSTING:
3 to 3.5 cups powdered sugar
12 tbsp butter, soft
½ tsp vanilla extract
1 tbsp milk
FOR THE TOPPINGS:
Preparation
Preheat oven to 350 degrees. Grease 2 cake pans or line them with parchment paper. I used an 8 inch circular pan but you can also use a 6 inch pan. 
In a large bowl, mix together butter and sugar. Add eggs.
Add flour, baking powder, and salt.
Add milk and pure vanilla extract. Stir well.
Divide cake batter evenly between 2 small bowls.
Dye the cake batter with 2 different food dye colors such as blue and green. Or you can leave one bowl as the yellow mix and dye the second one. Start with a few drops of food dye and stir. Keep adding more food dye until you like the color. I did about 20 drops of food dye per bowl to make pastel blue & green - perfect for Easter!
Pour batter from small bowls into their respective cake pans. Bake for 15-20 minutes or until cake is cooked.
While the cakes are cooking, make the buttercream frosting. In a medium-sized bowl, combine the powdered sugar, butter, vanilla extract, and milk. Mix together with a spatula and then use an egg beater or mixer machine if you have one. This makes the frosting smoother and creamy.  Start with 3 cups of powdered sugar and if you need more, then add another ½ cup. If you want more frosting, you can double the amounts for the frosting recipe.
Once the cakes have cooled, you can cut into them. Use a bowl (smaller than cake) and a cup (smaller than bowl) to carefully cut the cake into 3 circular portions.
You will be stacking the opposite colored cake pieces. Place bottom cake layer on whatever plate you will be serving the cake on. My bottom cake layer was large blue circle, followed by medium green circle inside it, and then small blue circle inside. Frost the first cake layer with the buttercream frosting. Add your next cake layer so it is large green circle, followed by medium blue circle, and then small green circle. Frost the top and sides of the cake with the rest of the buttercream frosting. 
Add rainbow sprinkles and any other decorations as desired!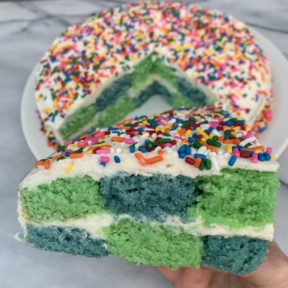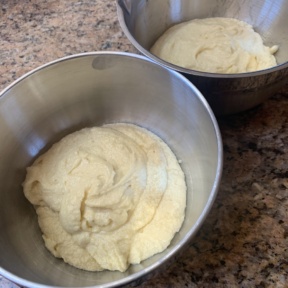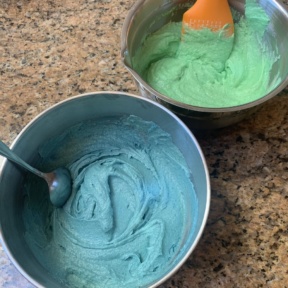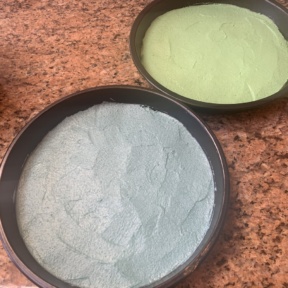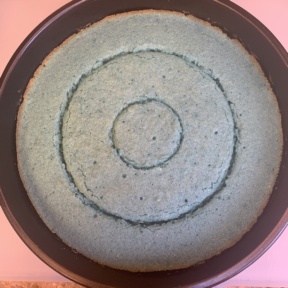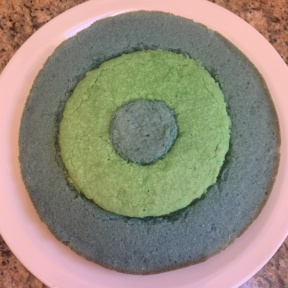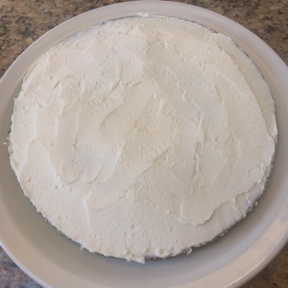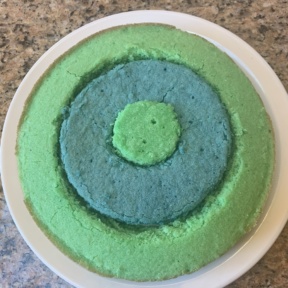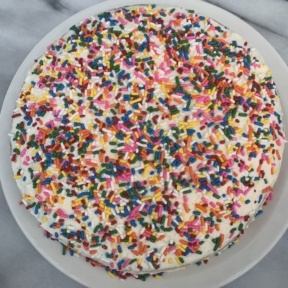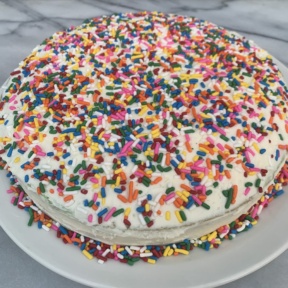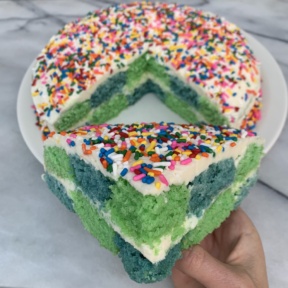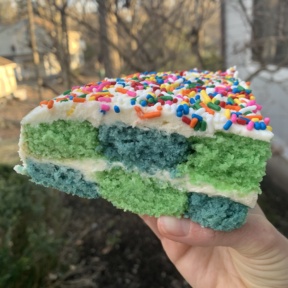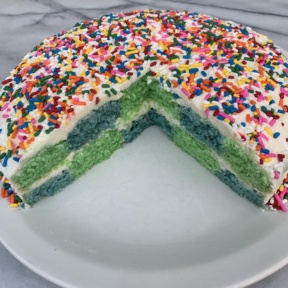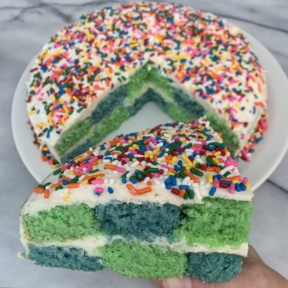 Dish Type:
Dessert, Cakes