Cauliflower Pizza with Brussels Sprouts, Squash, & Apples
Vegan
Ingredients
1 Califlour Foods crust
dairy free shredded cheese
tomato sauce
Brussels sprouts
squash
¼ of an apple cut up
Preparation
Preheat oven to 350 degrees.
Remove pizza crust from freezer while oven is preheating.
Remove the plastic wrap around the set of crusts, and gently tug on the plastic sheet in between the two crusts to separate them.
Line a baking sheet with parchment paper, and place the crust on the middle rack.
Bake for 5-10 minutes with no toppings.
Remove the crust from the oven and let it rest for 5 minutes.
Add tomato sauce to entire crust, except for ½ inch along the edges.
Add Brussels sprouts, squash, & apple pieces to pizza.
I roasted the Brussels sprouts & squash for about 30 minutes in 450 degrees beforehand so extra crispy, but not necessary to do.
Bake for an additional 10-12 minutes.
Pizza is done when edges are golden to dark brown depending on desired level of crispness.
Let cool for 5 minutes before cutting.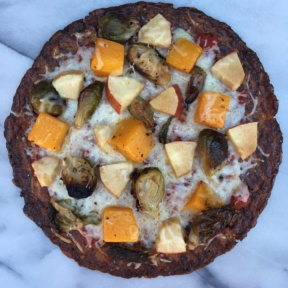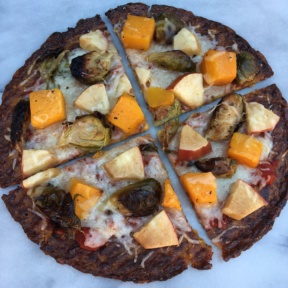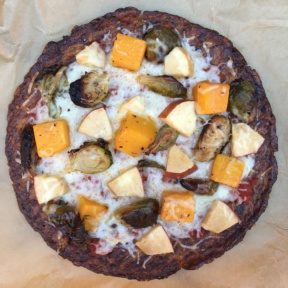 Dish Type:
Entrees, Pizza