Carrot Cupcakes
Ingredients
For The Cupcakes:
2 cups grated carrots
⅔ cup oil 
⅔ cup granulated sugar
2 eggs
1 cup GF all-purpose flour
1 tsp baking soda
½ tsp baking powder
¼ tsp salt
1 tsp cinnamon 
¼ tsp nutmeg
⅛ tsp cloves (optional)
chopped nuts for topping (optional)
For The Cream Cheese Frosting:
¼ cup butter, softened
4 oz cream cheese
1.5 cup powdered sugar
½ tsp pure vanilla extract
Preparation
Preheat oven to 350 degrees, and line cupcake liners in a muffin pan. Makes about 12 to 15 cupcakes.
Grate carrots. 
In a large bowl, combine oil and granulated sugar. Mix in eggs.
Add flour to bowl. Add baking soda, baking, powder, salt, cinnamon, nutmeg, and cloves to bowl. Mix well. 
Gently add grated carrots into bowl and fold them into batter. Don't overstir at this point - about 10 stirs to combine it all should be enough.
Divide batter evenly between cupcake liners, filling each liner about ⅔ to ¾ of the way full. 
Bake for 18-20 minutes, or until a toothpick inserted in the center comes out clean. 
Let the cupcakes cool. 
To make the frosting, beat the cream cheese, butter, and pure vanilla extract until fluffy. Then add in the powdered sugar, and mix well. Mix together with a spatula and then use an egg beater or mixer machine if you have one. This makes the frosting smoother and creamy. 
Frost the carrot cupcakes with cream cheese frosting.
Top with chopped nuts if you like!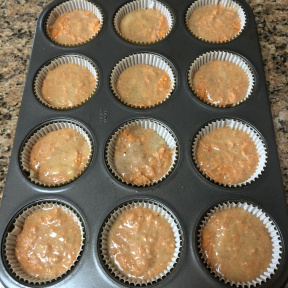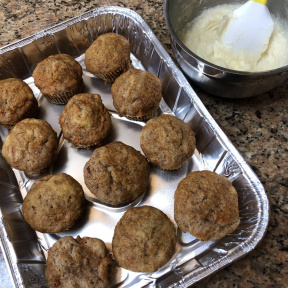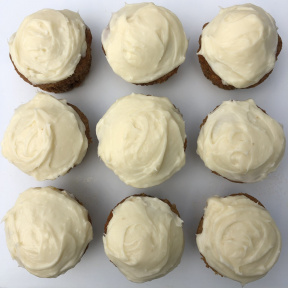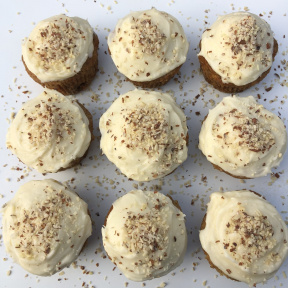 Dish Type:
Dessert, Cupcakes