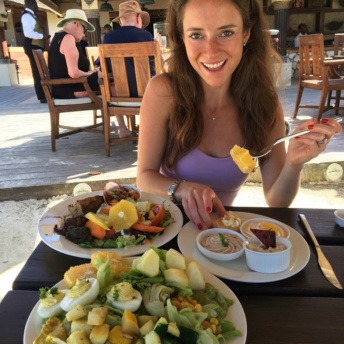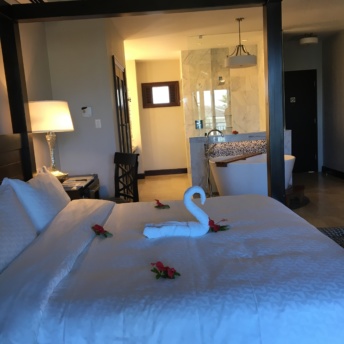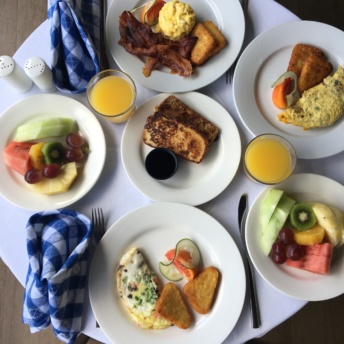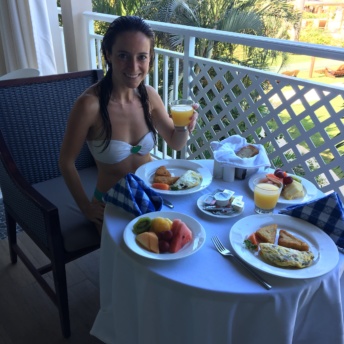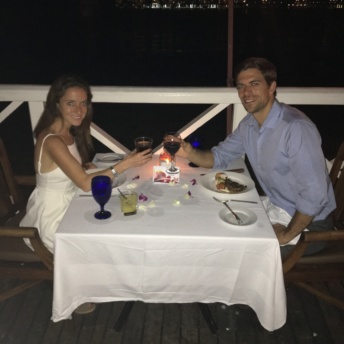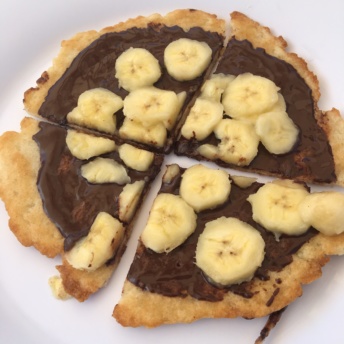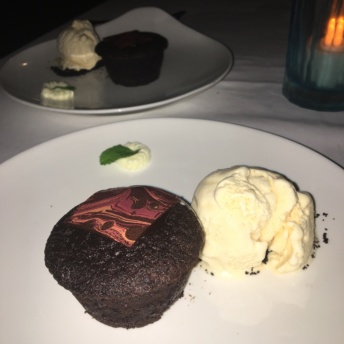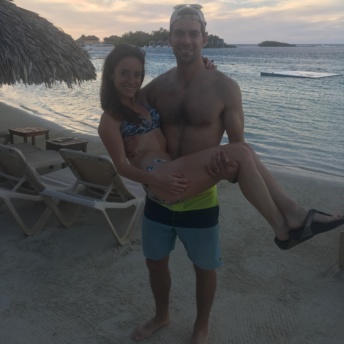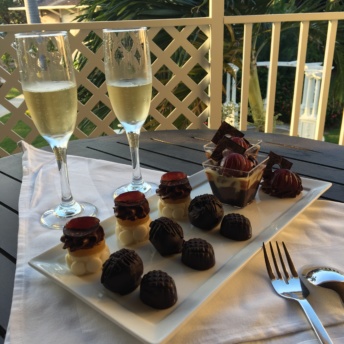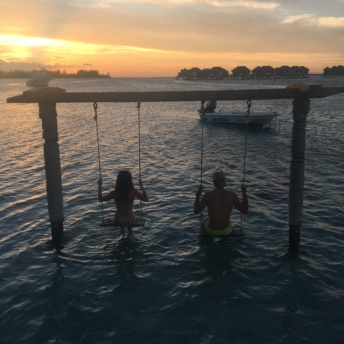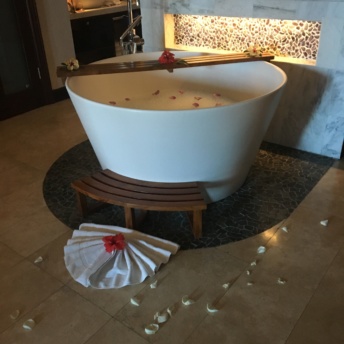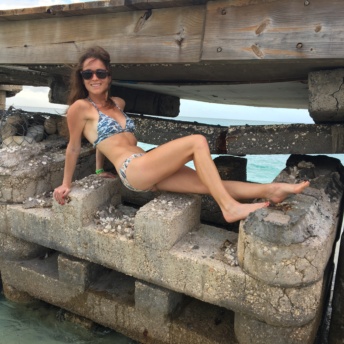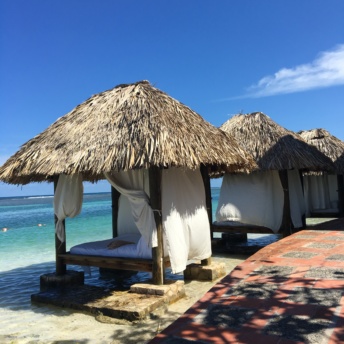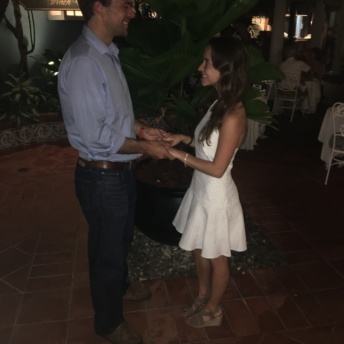 Second Honeymoon:
I had the best time in Jamaica! Brendan and I stayed at Sandals Royal Caribbean in Montego Bay, and I can genuinely say that this was the most luxurious vacation we've had. We honeymooned in Thailand in August 2016 which was a lot of fun and adventurous but our time in Jamaica truly felt like a honeymoon. So, we treated this vacation as our second honeymoon 🙂 You can never have too many honeymoons! It's all-inclusive, and the rooms and resort in general are gorgeous. If you're looking for a honeymoon spot or a romantic getaway with your partner, this is the place!
Tell the Resort About Your Dietary Restrictions:
Before arriving at Sandals, I told them that I was gluten-free. If you're staying at a resort and you have celiac disease, allergy, sensitivity, or dietary restriction, I highly recommend that you notify them before arriving at the resort. You don't want to have to guess what foods you can enjoy, or end up not eating out of fear. Knowledge is power, and giving them this information will make your vacation more stress-free. Don't feel like you're burdening the resort. This information prepares them, and it's easier for them if they can plan ahead of time.
Gluten-Free Food at Sandals:
Sandals is incredibly accommodating. They take allergies and dietary restrictions seriously. Our car-ride from the airport to Sandals even had a piece of gluten-free cake plus cheese and GF crackers waiting for me! This was my first taste of true hospitality.
When I arrived at the resort, I met with the Chef and Head of Food & Beverage to go over the gluten-free options. They reassured me that the majority of the food either is gluten-free or can be made gluten-free. They let me know that the restaurants have gluten-free bread available, along with gluten-free desserts, pizza, crackers, French toast, waffles, pancakes and more. You can request gluten-free buns for the burgers and fries cooked in a separate fryer ahead of time if you wish. If there's something special you want to eat during your stay, you're more than welcome to talk to the concierge ahead of time.
Our Butler:
Our room came with a butler. His name is Rayo, and he was amazing! I've never had a butler before, and I wasn't quite sure what to expect. Rayo was there to make our stay even more comfortable. He gave us a cell phone to use so he could check in on us and we could call him if we needed anything. Rayo made our dinner reservations and reserved lounge chairs on the beach for us. He personally decorated our dinner table with flowers each day before escorting us there. If we ordered room service in the morning, Rayo personally brought our breakfast to us.
Brendan and I are pretty laid-back. I can't imagine asking someone to do something for me – I would feel weird asking, and I'm used to doing things for myself. We didn't really ask Rayo to do anything for us so he took it upon himself to treat us to daily surprises. The first day, there was a tray of gluten-free desserts and a bottle of champagne waiting for us, along with a swan made of towels on the bed and hibiscus flowers all over the room. The second night, we walked into a beautifully made bath with a pathway of flower petals. The third night, he left an amazing tray of chocolate desserts with a bottle of champagne for us to enjoy. Rayo figured out how much I love my sweets 🙂 Brendan and I felt so pampered and taken care of. Thank you, Rayo!
Our Meals:
Brendan and I ate extremely well this week! The nine restaurants we ate at all have their own page on glutenfreefollowme.com/Restaurants detailing their gluten-free options with pictures and more information. Here are the direct links:
Breakfast:
There is a breakfast buffet at The Regency and a la carte at Le Jardinier but we opted to do room service instead. After our gym workout, we would come back to breakfast on the balcony. I can get used to that! I had a fruit platter, omelet with GF bread, and French toast. It was so nice to eat breakfast with a view of the resort in the comfort of our own room.
Lunch:
The lunch buffet at The Regency has a wide variety of fruits, vegetables, salads, and entrees. There's even a gluten-free dessert station with four GF dessert options on any given day!
The desserts I tried (and loved) at the buffet included:
chocolate mousse
cherry mousse
blueberry cheesecake
sticky rice balls
orange mousse
rice pudding
banana mousse
caramel cheesecake
rum & raisin cheesecake
mango yogurt mousse
dark & white chocolate mousse
coconut macaroons
We ate salads and sandwiches at The Mariners, a casual beachside restaurant open for lunch. I had the Greek salad without pita crisps and Caesar salad without croutons. You can also get a sandwich with gluten-free bread. There's a soft serve ice cream machine at the bar which I obviously took advantage of! I love my fro-yo 🙂
I knew that there was a pizza place on the resort but I didn't expect there to be gluten-free pizza. Now that I know Sandals, I shouldn't be surprised that they can do gluten-free pizza as well! It takes longer to make the GF pizza (about 40 minutes) but it's worth it. The pizza is slightly smaller, and they prepare and cook it separately. Brendan and I shared the cheese pizza and chocolate banana pizza at Bella Napoli Pizzeria – such a treat!
If you go to Jamaica, you have to eat jerk chicken! Sandals Royal Caribbean has a private island, and Jerk Shack is located there. You can choose between jerk chicken, pork, or sausage – all three options are gluten-free.
Dinner:
The dinner at The Regency is a la carte, and it was my favorite dinner at Sandals. We sat outside on the deck, with a view of the ocean and over-the-water bungalows. I started with GF bread and butter. Then I had the grilled vegetable Napoleon appetizer and lobster entree, and Brendan had the chicken risotto and surf & turf. We shared two GF desserts:
banoffee mascarpone verrine with caramelized bananas, mascarpone Chantilly cream, caramel sauce, and pecan toffee crumble
chocolate delice with chocolate fudge mousse, chocolate cream, and chocolate sable
Eleanor's offers local Caribbean cuisine with candlelit tables. Everything was so flavorful! I had GF bread with butter, spicy pumpkin butter, and olive tapenade. The Chef was able to make the fish cakes gluten-free for me which I appreciated. Brendan and I both had salads with jerk chicken and shrimp, and then I had sauteed shrimp with vegetables and scotch bonnet & thyme infused creamy coconut sauce. I was quite full but couldn't resist the rum and raisin cheesecake – worth it!
Le Jardinier serves French food. I had the roasted beet salad and Nicoise salad. I knew we had to eat here because they offer flourless chocolate cake! It came with sea salted caramel chocolate sauce and vanilla ice cream. Brendan and I each had our own so we didn't have to share 😉
The Cricketers Pub is an Irish pub, and it's a fun place to hang out at night. I had the wedge salad. Other gluten-free options include the cottage pie, braised brisket steak, and bangers 'n mash.
Water Activities:
Sandals Royal Caribbean has a calm swimming area by the beach with large floats you can lie on. We spent some time out there, along with sailing the Hobie Cat a few times and paddle-boarding. We didn't get to do windsurfing or water skiing since it was too windy the last day. You can also go kayaking, snorkeling, and scuba diving. There are a swings and hammocks in the water which were great to relax on. Sandals has a couple pools, and they all have swim-up bars.
Overall:
I had an incredible vacation at Sandals Royal Caribbean in Monterey Bay! I definitely want to check out more Sandals locations and explore more of Jamaica. If I stayed at this resort longer, I would have done some activities off the resort. And if the over-the-water bungalows are available another time, that would be quite the treat! (They're so popular that they're booked for the next year.) Thank you Sandals for treating us so exceptionally well and giving us a perfect second honeymoon!