Strawberry Stuffed Brownies
Ingredients
FOR THE BROWNIES:
2 eggs
½ cup butter, softened
1 cup granulated sugar
⅓ cup unsweetened cocoa powder
½ cup GF all-purpose flour
1 tsp pure vanilla extract
¼ tsp baking powder
¼ tsp salt
FOR THE TOPPINGS:
1 lb strawberries, with tops cut off and halved
16 oz chocolate chips
2 tbsp coconut oil
Preparation
Preheat oven to 350 degrees. Line pan with non-stick aluminum foil. I used an 8x8 inch glass pan.
In a large bowl, combine the butter, sugar, eggs, and vanilla extract.
Add in the cocoa powder, flour, salt, and baking powder. Mix well. 
Pour batter into pan.
Bake for 25-30 minutes.
Let brownies completely cool in pan, and keep the brownies in the pan. 
To make the top chocolate layer, melt the chocolate chips and coconut oil. You can do this with a bowl in the microwave or in a saucepan over low heat. Stir the chocolate until smooth. Set the melted chocolate aside.
Top brownies with strawberries, face-down. The strawberries should have their tops cut off and be cut into halves.
Pour the melted chocolate over the strawberry layer. You can use a spatula to smooth the chocolate out. Let the chocolate set by putting the brownies in the fridge. I put them in the fridge for 35 minutes.
Once the chocolate layer is solid, then you can cut into the brownies. Store brownies in fridge until ready to serve.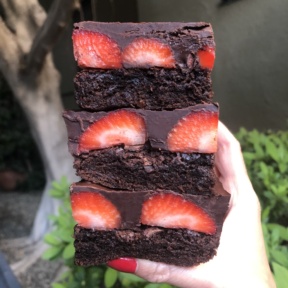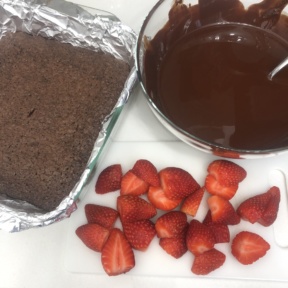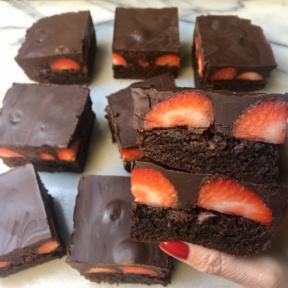 Occasion:
Valentine's Day