Pancake Fruit Skewers
Paleo
Ingredients
1 banana, mashed
2 eggs
toothpicks
1 banana, sliced into coins 
strawberries, sliced into coins
blueberries
maple syrup (optional)
Preparation
In a small bowl, mash the banana with a fork. Add two eggs to bowl, and mix well, making the pancake batter.
Grease a hot griddle/pan - I like to use olive oil spray. Use a spoon to scoop up a bit of pancake batter, and put it on the pan so several mini pancakes are formed. Continue until the pan is full. 
Flip mini pancakes over, and remove from pan once cooked through and lightly browned. Add more olive oil spray to pan after each batch. Makes about 25 mini pancakes. Note that the first batch of pancakes will look just okay - the next batches will look like pancakes!
Assemble your pancake skewers! Add a banana coin followed by a mini pancake and repeat the pattern and top it off with a blueberry. Repeat with other patterns as well. Can serve with maple syrup or enjoy plain.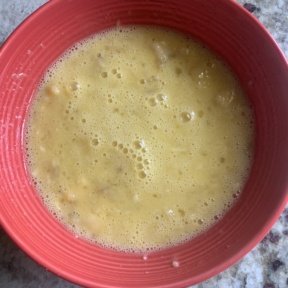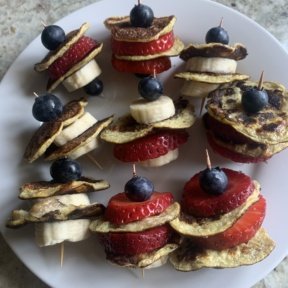 Occasion:
Fourth of JulyMemorial Day