Strawberry Cake Bars
Ingredients
FOR THE CAKE BARS:
1 cup granulated sugar
½ cup butter, softened
2 eggs
2 tsp pure vanilla extract
1.5 cups GF all-purpose flour
1 tsp baking powder
½ cup milk (I used almond milk)
1 cup strawberries, diced 
FOR THE STRAWBERRY GLAZE:
1 cup powdered sugar
¼ cup strawberries, smashed
½ to 1 tsp butter, softened
Preparation
Preheat oven to 350 degrees. Add non-stick tin foil to pan, or grease it. I used an 8x8 pan. If you use a 13x9 pan, I recommend doubling the recipe. Or you can use a round pan or loaf pan etc. 
In a large bowl, combine butter and granulated sugar. Add eggs & vanilla extract, and mix. Add flour and baking powder, and mix. Add milk, and mix. Add diced strawberries to batter, and fold them into the batter. 
Pour batter into pan. Bake for about 30 minutes. 
While the cake cools, make the glaze. I smashed the strawberries with a spoon and knife but you can use a food processor as well. In a small bowl, combine the powdered sugar, smashed strawberries, and butter. Mix well. 
Once the cake has cooled, spoon the glaze onto the cake and spread it around evenly. You can let the glaze set by putting the cake in the fridge for about 10 minutes. You can slice the cake before or after adding the glaze. I sliced it before doing the glaze.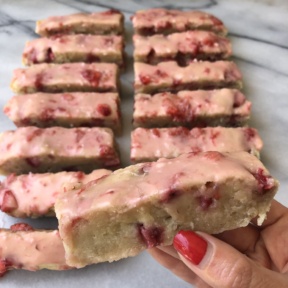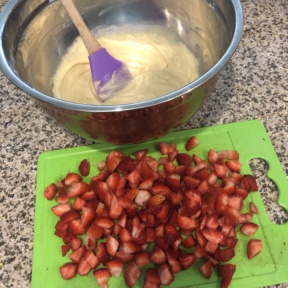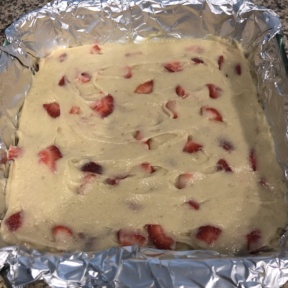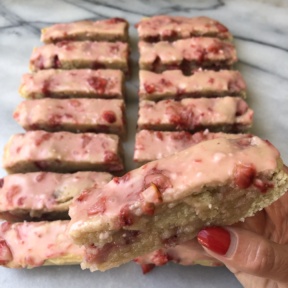 Occasion:
Valentine's Day