Berry Spinach Salad with Balsamic Vinaigrette
Ingredients
FOR THE SALAD:
4 oz fresh spinach
handful of strawberries, slices into halves or quarters 
handful of blackberries
handful of blueberries
1 avocado, sliced
1 slice of red onion, cut into half rings
handful of chopped pecans 
handful of feta cheese 
cracked black pepper
FOR THE BALSAMIC VINAIGRETTE:
3 tbsp olive oil or avocado oil
2 tbsp balsamic vinegar
1 tsp dijon mustard
salt & pepper to taste
Preparation
Place fresh spinach on plate or bowl. Add sliced strawberries, blackberries, and blueberries on top of spinach. Add sliced avocado. Add red onion. 
Sprinkle pecans and feta cheese all over the salad. Add cracked black pepper over salad. 
In a small bowl, combine olive oil and balsamic vinegar. Add dijon mustard and salt & pepper. Mix well. 
When ready to eat the salad, drizzle the balsamic vinaigrette all over the berry spinach salad. If you want a larger salad, then you can double or triple the ingredient amounts.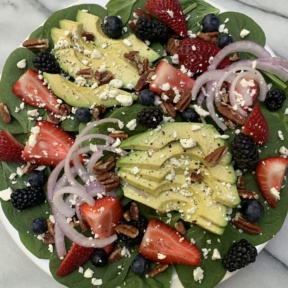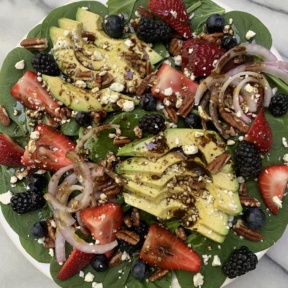 Occasion:
Fourth of JulyMemorial Day