Lemon Icebox Cake
Ingredients
Crust:
10 oz of GF lemon sugar cookies
6 tbsp butter, melted
1 tbsp granulated sugar
pinch of salt
Filling:
one 14 oz can sweetened condensed milk
one 8 oz package softened cream cheese
zest from 1 lemon
¼ cup fresh lemon juice
½ cup heavy whipping cream & 1 tbsp sugar (or 1 cup Cool Whip)
Garnish:
whipped cream
sliced lemon 
Preparation
Use a food processor to turn the cookies into crumbs, or crumble the cookies up using your hands with the bag closed.
In a medium bowl, add the cookie crumbs, melted butter, 1 tbsp granulated sugar, & salt.
Press mixture into the bottom of a 9 inch pie plate, and up on the sides.
Place pie pan in freezer until firm, for at least 15 minutes.
In a separate bowl, combine the sweetened condensed milk, cream cheese, lemon zest, & lemon juice until smooth.
Use an electric mixer to beat heavy whipping cream and sugar until stiff peaks form.
Fold whipped cream into condensed milk mixture.
Can add a cup of Cool Whip instead especially if you don't have an electric mixer.
Pour filling into crust and smooth on top with a spatula.
Refrigerate until firm, for at least 2 hours, or can do overnight which I did.
Garnish with whipping cream and sliced lemon.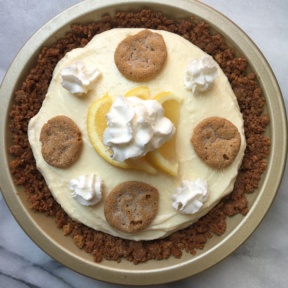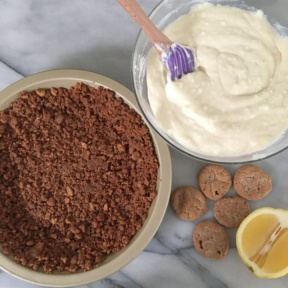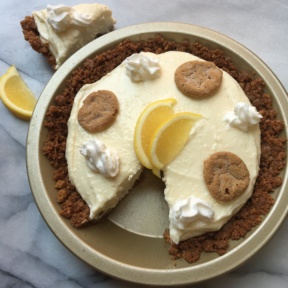 Dish Type:
Dessert, Cakes