Chocolate Chip Pumpkin Bread
Ingredients
2 cups GF all-purpose flour
1 tbsp pumpkin pie spice
1 tsp baking soda
¾ tsp salt
1 cup butter, softened
1 ¼ cups granulated sugar
1 egg
2 tsp pure vanilla extract
1 cup pumpkin puree (canned pumpkin)
chocolate chips
Preparation
Preheat oven to 350 degrees.
In a lagre bowl, combine flour, pie spice, baking soda, and salt.
Add butter and granulated sugar. Mix well. 
Add egg and pure vanilla extract. Mix well. 
Add pumpkin to bowl. Mix well. 
Fold in chocolate chips.
Pour batter into pan.
Bake for about 30 minutes.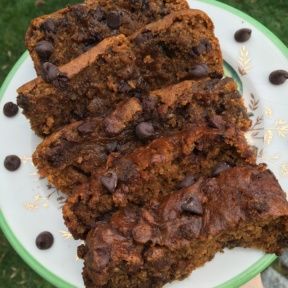 Occasion:
HalloweenThanksgiving
Dish Type:
Dessert, Bars, Bread, Fruits