AB&J Fruit Skewers
Vegan
Ingredients
6 slices of Little Northern Bakehouse white wide slice loaf
2 bananas cut into 18 slices
1 lb strawberries, or 18 strawberries
almond butter
jam/jelly
6 skewers
Preparation
Trim off the crust on all sides of bread slices.
Using a knife, cut off the tops of the strawberries. Slice the bananas into slices.
Top 3 of the bread slices with almond butter, and the other 3 bread slices with jam. Combine the bread slices so 1 almond butter topped slice makes a sandwich with 1 jam topped slice.
Cut each slice into halves and then again so each slice is cut into 4 squares. 
On a skewer, slide AB&J sandwich followed by strawberry followed by banana slice. Repeat this pattern 2 more times and then end with an AB&J sandwich. Do the same for all 6 skewers.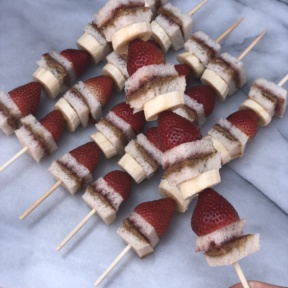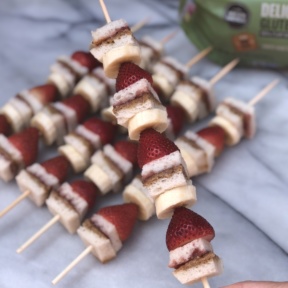 Occasion:
Valentine's Day