Kale Caesar Salad with Cornbread Croutons
Ingredients
cornbread (preferable to be a couple days old but not necessary)
salt & pepper
kale
Tessemae's creamy Caesar dressing
tomatoes
carrots
Preparation
Preheat oven to 400 degrees.
Cut cornbread into cubes.
Place cubes on baking sheet.
Sprinkle salt & pepper on cornbread croutons.
Toast in oven under edges are a deep brown, for about 10-15 minutes, flipping onto other side halfway through.
Generously toss kale with Caesar salad dressing.
Top kale salad with cornbread croutons, tomatoes, & carrots.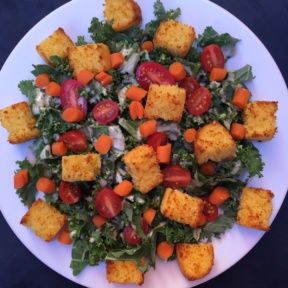 Dish Type:
Entrees, Bread, Vegetables