Deli Style Bread with Stuffed Avocado
Ingredients
3 slices of Schar deli style bread
1 avocado
cherry tomatoes
dairy free chive cream cheese
peanut butter
raspberries
blueberries
sliced apple
1 tsp sesame seeds
Preparation
The bread is so soft that you don't even need to toast it! Cut an avocado in half and put one half to the side.
Cut up the other half of the avocado into small pieces and top to bread #1, along with a couple sliced cherry tomatoes & sprinkled sesame seeds.
Spread bread #2 with cream cheese and top with raspberries & blueberries.
Spread bread #3 with peanut butter and top with sliced apple.
For the stuffed avocado, scoop a spoonful of cream cheese into half of an avocado and sprinkle with sesame seeds.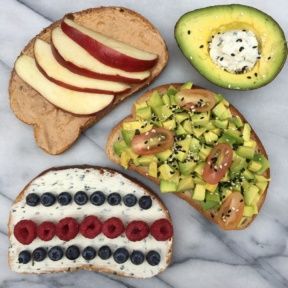 Dish Type:
Breakfast, Bread, Vegetables, Fruits