Shrimp Fried Rice
Ingredients
1 ½ cups of rice
3 cups water
5 eggs
veggies such as corn & peas & carrots
4 tbsp GF soy sauce / tamari sauce
shrimp
salt & pepper
¼ tsp avocado oil
Preparation
In a saucepan bring water to a boil, and add rice and stir.
Reduce heat, cover, and simmer for 20 minutes.
Set aside and allow rice to cool.
Heat a large pan for 2 minutes.
When the pan is hot, pour in the avocado oil.
Mix well and cook for 3 minutes.
Mix in cooled rice and shrimp and cook for another 3 minutes.
Stir constantly.
Mix in veggies, eggs, soy sauce, and salt & pepper.
Cook for another 4 minutes, stirring until eggs are cooked & everything is blended evenly.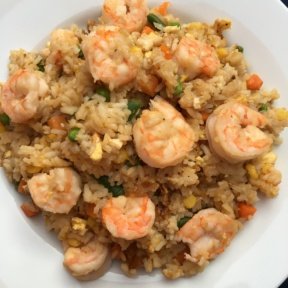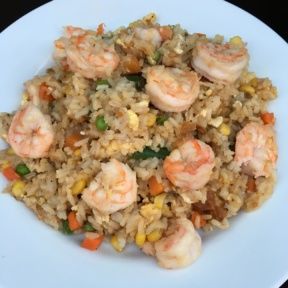 Dish Type:
Entrees, Vegetables