Corn Tomato Cucumber Salad
Ingredients
2.5 cups corn kernels (about 3 cobs of corn)
1 cup cherry tomatoes, halved
1 cup cucumber, sliced and quartered
¼ cup red onion, diced
2 tbsp apple cider vinegar
2 tbsp avocado oil or olive oil
juice of 1 lime
salt & pepper to taste
¼ cup feta cheese, crumbled
1 tbsp basil or parsley
Preparation
Boil or grill corn. Or you can use the microwave - place ears of corn with husk in the microwave. Microwave for about 5 minutes. Remove from the microwave, and let the corn sit. Slice the kernels off the corn. 
In a medium-sized bowl, combine the corn, cherry tomatoes, cucumber, and red onion. 
In a small bowl, use a whisk to mix the apple cider vinegar,  olive oil, and juice of lime together. 
Drizzle the dressing all over the ingredients in the medium-sized bowl. Mix together. Add feta cheese, salt & pepper, and basil. Mix together.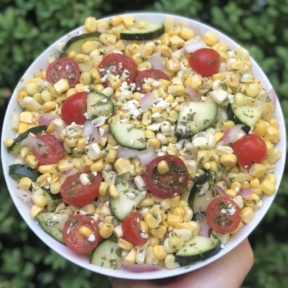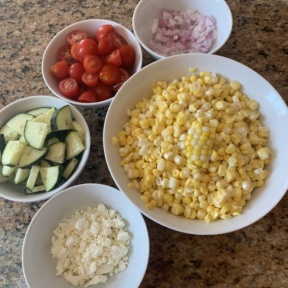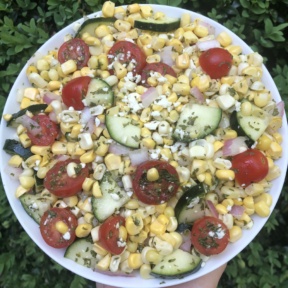 Occasion:
Fourth of JulyMemorial Day