Caesar Deviled Eggs
Ingredients
6 hard-boiled eggs
¼ cup Tessemae's creamy Caesar dressing
½ cup Tessemae's mayo
¼ cup yellow mustard
paprika
arugula
Preparation
Hard-boil the eggs.
When cool, carefully peel the eggs and cut them into halves the long way.
Remove the yolk from each of the eggs, and put the yolks in a separate bowl.
Mash the yolk into a fine crumble using a fork.
Add mayo, mustard, and Caesar dressing to bowl with crumbled yolks, and mix well.
Put yolk mixture into piping bag or a Ziploc bag with a small angled hole in one of the ends.
Add yolk mixture to each of the eggs.
Sprinkle with paprika and serve on arugula.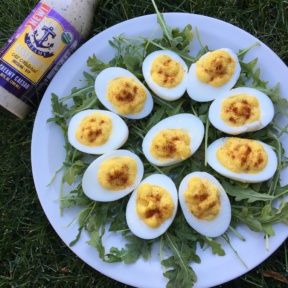 Dish Type:
Breakfast, Vegetables, Eggs