Apple Cider Donuts
Ingredients
FOR THE DONUTS:
donut pan or muffin tin with tin foil
1.5 cups apple cider
2 cups of GF all-purpose flour
1 tsp baking soda
1.5 tsp ground cinnamon
½ tsp nutmeg
¾ tsp baking powder
¼ tsp salt
2 tbsp plain yogurt
1 egg
¼ cup granulated sugar
½ cup brown sugar
½ cup milk (I used almond milk)
1 tsp pure vanilla extract
FOR THE TOPPING:
½ cup granulated sugar
1 tsp ground cinnamon 
½ tsp nutmeg
5 tbsp unsalted butter, melted 
Preparation
Pour the apple cider into a small saucepan. Over low heat, simmer the apple cider until it thickens and becomes syrupy. I did about 20 minutes. Let it cool. 
Preheat oven to 350 degrees.
In a large bowl, combine the dry ingredients - flour, baking soda, cinnamon, nutmeg, baking powder, and salt. Set aside.
In another large bowl, combine the yogurt, egg, granulated sugar, brown sugar, milk, and pure vanilla extract. Mix together. 
Add reduced apple cider to bowl. Combine. 
Add the dry ingredients bowl to the main bowl. Combine but don't overmix.
Grease donut pan. I used non-stick spray. Or if you don't have a donut pan, you can use a muffin tin and tin foil (non-stick tin foil is ideal). They look better in the donut pan but it will taste the same if you don't have one. Cut tin foil into a square, about 4" by 4". Put each piece of tin foil around your thumb. You want this center part of tin foil that sticks up to be tall enough so it's still seen once the batter is in. Remove your finger, and press the tin foil into the muffin tin so it's fairly smooth. Repeat with more tin foil. If you don't use non-stick tin foil, then also use cooking spray to grease it. 
Add batter to donut pan. Make sure each mold isn't completely full - it should be around ½ to ¾ full. I put the batter in a Ziploc bag and cut a triangle in 1 corner so I could carefully add batter to the donut pan. Makes about 30 mini donuts. 
Bake for about 9 to 10 minutes. Let the donuts cool. I used a small spatula to carefully remove the donuts from the pan. 
In a medium-sized bowl, combine the granulated sugar, cinnamon, and nutmeg to make the topping. 
Brush the donuts with melted butter or dunk both sides of the donut in the bowl of melted butter. Then cover the donuts with the cinnamon sugar topping. 
Best when enjoyed fresh! If leftovers, store in an airtight container for a couple days.
You can also make my healthier glazed donuts or healthier baked powdered sugar donuts!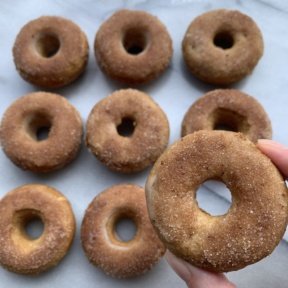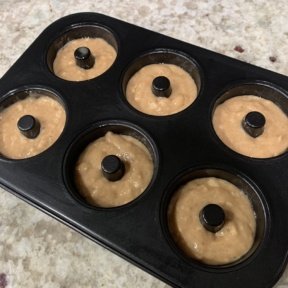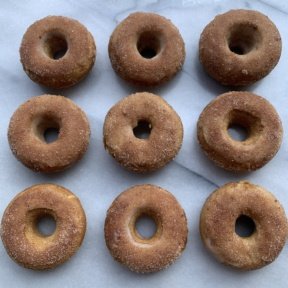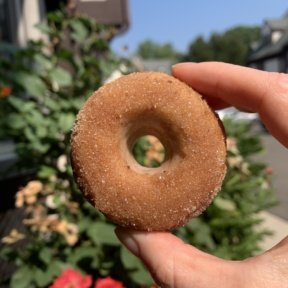 Occasion:
HalloweenThanksgiving