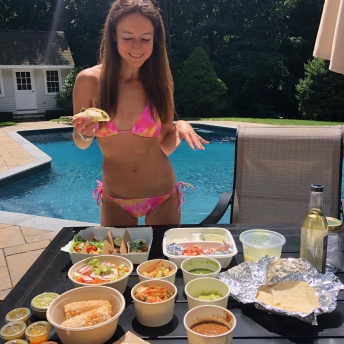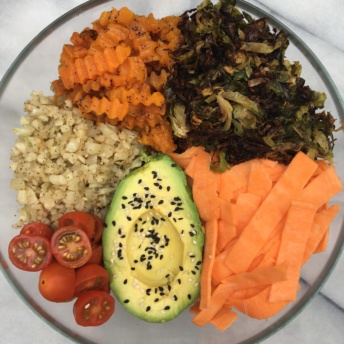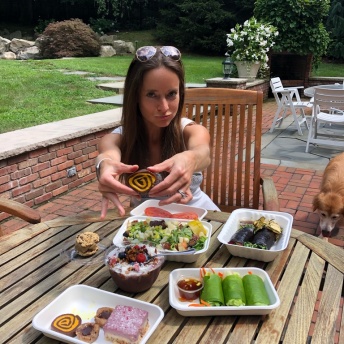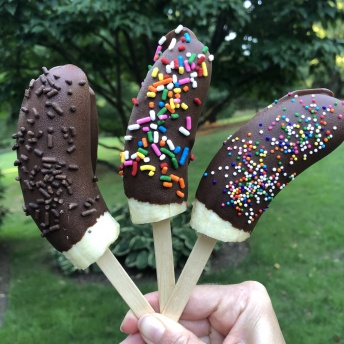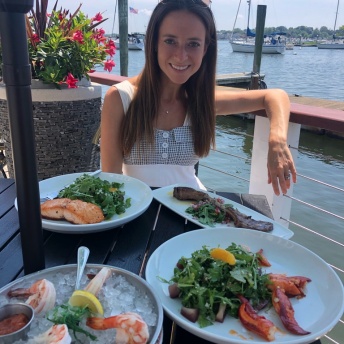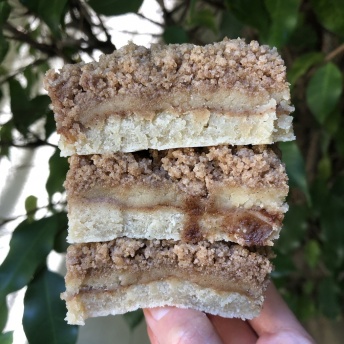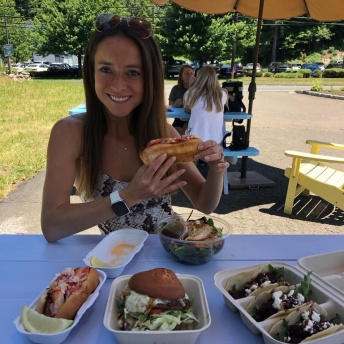 I've been asked by many of you to share how I balance eating healthy foods vs. treats and eating at home vs. eating out so here ya go! If you've shared a meal with me, then you know that I eat a LOT 😉 I let myself eat whatever I want but I make sure to keep it balanced.
Greens First:
I eat greens everyday for lunch. When I'm home, my ideal lunch is a big salad with an omelette and vegetables. When I eat poke, I get a base of greens rather than rice or noodles. If I get pizza or tacos, I eat a salad first. It's important to make sure that you get enough greens in. And I honestly LOVE salads and vegetables! They're incredibly satisfying for me. I make such tasty salads now that I prefer eating a big salad at home rather than eating out. I do love eating out but it's rare for me to be completely satisfied by a salad at a restaurant.
I'm grateful for brands like Green Giant who make it easy to eat healthy at home. Their Riced Veggies and Veggie Spirals are a lifesaver! I love cauliflower rice and zoodles but I really don't feel like spending the time to make it myself. It's much easier to get an already prepared bag of Riced Veggies, heat it up, and dive in. It only takes a couple minutes to prep rather than over an hour – our time is precious! My favorite Green Giant Riced Veggies are their riced cauliflower & sweet potato, riced cauliflower & broccoli, and riced cauliflower. Before flying to NYC today, I put together a quick healthy lunch of cauliflower rice, omelette, and roasted veggies. You CAN eat healthy and delicious food that also happens to be "fast" food.
If you work in an office, I recommend meal-prepping on Sundays so you're all set for the week. I roast veggies twice a week. Since it's so easy to make Riced Veggies from the bag, I'll spend a couple minutes making it one day and then save whatever I don't eat for the next day. You can even make the Riced Veggies in your office's microwave. Your co-workers will be jealous of your lunch! The same goes for snacks. If you bring healthy snacks, then you're more likely to enjoy those rather than heading to the vending machine every hour.
Snacks:
I'm a snacker, and I'm fine with that. Some people eat three meals a day without any snacks, but that doesn't work for me. Do what works for YOU! In the afternoon, I typically eat every hour or two. I like my snacks! I do eat something sweet daily as well. If you're looking for snack ideas, I detail and rate 950+ gluten-free friendly products here. You can filter by food type categories such as baked goods, nut butter, chocolate, candy, granola, bars, fruit, vegetables, hummus, dips, rice cakes, crackers, pretzels, and ice cream. And you can filter by dietary restrictions which is helpful if you're avoiding more than just gluten.
Some of the snacks I enjoy include:
fruit especially blueberries, raspberries, blackberries, cherries, and bananas
roasted, raw, and riced veggies
chocolate
frozen yogurt or ice cream
rice cakes
popcorn
samples that come in the mail (I don't always know what's arriving that day so it keeps me on my toes!)
whatever I'm baking or cooking that day
Overwhelming At Times:
When you aren't able to eat everything due to an allergy or dietary restriction, and then you have a massive selection of food you can eat, it can overwhelming. Many of you have told me that it's challenging when you're celebrating a holiday like Thanksgiving or Christmas. The host may know that you're gluten-free, and he/she goes out of their way to make safe options for you. Your first thought is, "wow this is amazing!" And maybe your second thought is, "whoa I can't eat all of this – do they expect me to?" When someone makes everything gluten-free for your benefit (or several gluten-free dishes), you want them to know how much you appreciate it. You don't want to offend someone who goes out of their way to make you gluten-free dishes but how much can one person eat?!
This still happens to me when I celebrate the holidays and special occasions with non-immediate family and friends. I tend to get excited about the appetizers and then I'm not that hungry for the real meal. I've had people cook a special entree for me since what everyone else is eating for dinner isn't gluten-free. At times, I feel guilty for not being able to finish alllll the food they gave me. But why should I have to eat a massive portion when I just went to town on the appetizers?! It's not fair to your body to stuff yourself either. Personally, I enjoy appetizers, small plates, and desserts over standard entrees. I enjoy tasting everything rather than just sticking to one dish where every bite is the same. I feel comfortable to eat what I want when I'm with my immediate family and close friends, but I do feel some pressure when I'm with people I'm not as close with. It's a blessing and a curse to have people go out of their way for you. It's incredibly thoughtful of them, but it's also nearly impossible to eat everything!
Eating Out:
Whenever I eat out at a restaurant and take pictures of me with the food, I'm asked if I really ate all that food. The quick answer is YES! I bring my husband or family/friends to meals with me, and we typically eat all the food. If we don't finish the food, then we bring leftovers home or give it to a homeless person. I try to keep it to one big restaurant meal a day. I learned the hard way when I booked two Italian restaurants for lunch and dinner a few years ago! Brendan and I were too stuffed from lunch, and we couldn't do dinner justice.
However, I will go to multiple restaurants in a day when I travel. I do a lot of research on the best gluten-free friendly places so I get excited about all the amazing food. I'm only there for so long, and I want to try as much as I can. I also want to share my experiences with you guys! If I'm doing 5-6 food stops in a day, I obviously don't consume all the food myself. I bring different people to each meal, and they can take the leftovers home, or again we give it to a homeless person.
That being said, I do go overboard sometimes. When I go to an 100% gluten-free bakery, I usually eat too much. It's rare to have a bakery where you can eat anything so it can be hard to contain yourself! Don't sweat it – know that you're stuffed and try to eat better the next day. You won't eat like that everyday. Again, this is why I make sure to start everyday with a big salad and vegetables. Even if you eat a ton of baked goods, at least you started with one healthy meal that day!
This is a Green Giant sponsored post. All opinions are my own.