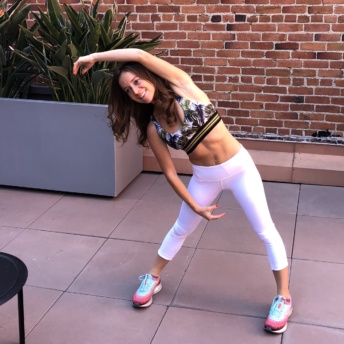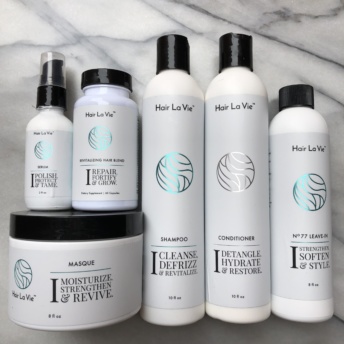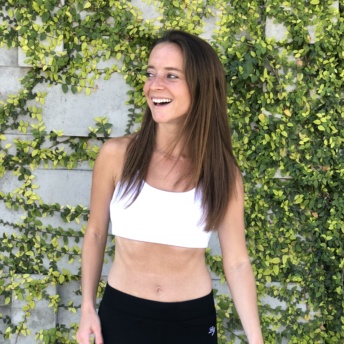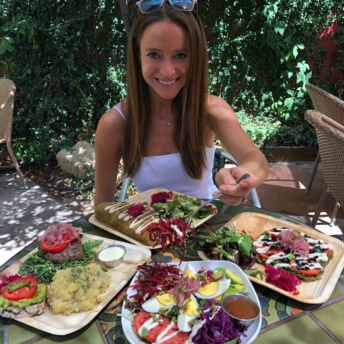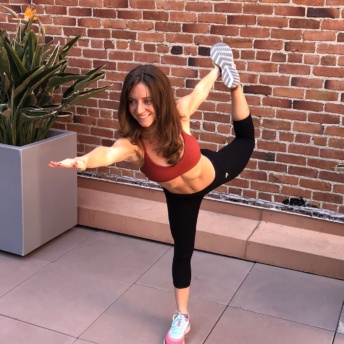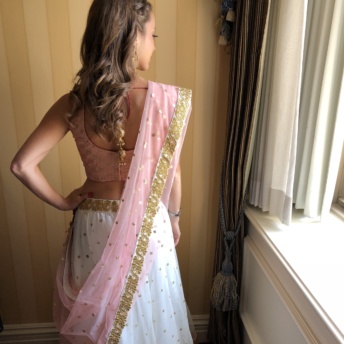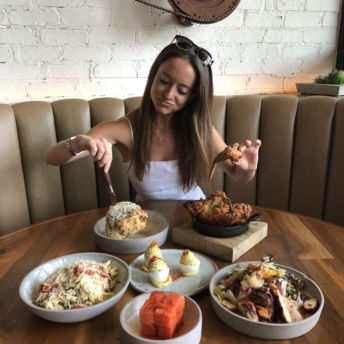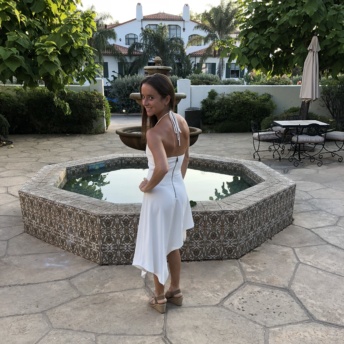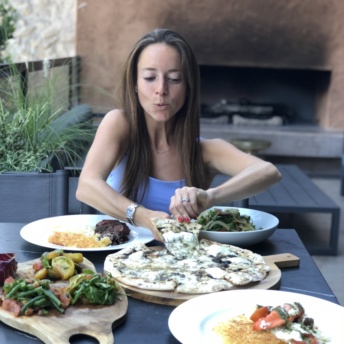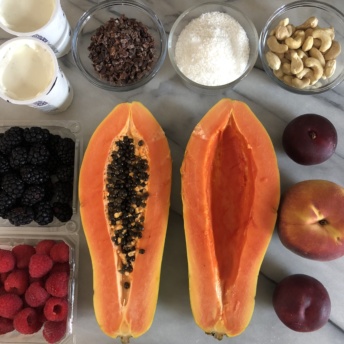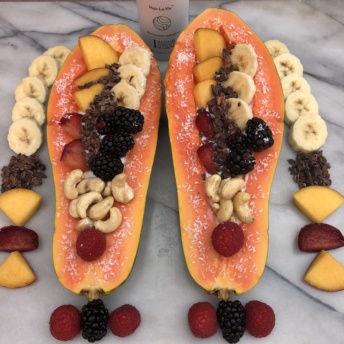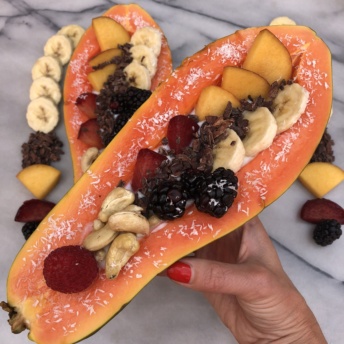 I truly believe that what you put IN and ON your body matter. When most people think of being gluten-free, they typically think of the obvious, only eating gluten-free food. But, some people with a gluten intolerance can also have negative reactions from putting products that contain gluten on their body. I am careful to only use gluten-free products on my body, including hair care products.
My Search for Hair Care Products:
Previously I wasn't picky about products I put on my hair. I typically bought whatever shampoo and conditioner was on sale, or I picked up recognizable brands. I didn't really investigate or care what ingredients were being used.
After learning I had celiac disease and learning more about the side effects, I decided it was important to find gluten-free hair products to use. The challenge, was finding a product that was gluten-free (obviously), but also left my hair feeling clean and hydrated. Over the summer, I discovered Hair La Vie. This brand initially stood out to me because they clearly label their products as gluten-free. I also like that everything is chemical-free and organic. After using Hair La Vie, my hair felt soft and refreshed.
Gradually, I've become more aware of the ingredients in the products I use, and choose certain brands based on this. Maybe living in Los Angeles has rubbed off on me? Or maybe it's from doing Gluten Free Follow Me full-time and trying out products on a daily basis? I used to solely focus on products being gluten-free. Finding gluten-free items used to be a challenge in itself. But now that gluten-free products are readily available, I'm much more inquisitive about what I'm putting in and on my body.
Why Natural Ingredients Matter in Beauty Products:
Skin is our body's largest organ. It's critical to take care of our skin. After all, our skin protects our body. Our skin absorbs everything that you put on it including shampoo and conditioner. It's crucial to choose quality products with natural ingredients. What brands leave out of their products is just as important as what they put into them.
Truly natural products do not contain chemicals. Chemicals can be irritating for everyone, especially those with celiac disease, allergies, and sensitive skin. If you put dangerous ingredients on your skin, they can get into your body. No thank you!
Why Gluten-Free Hair Products Matter:
If you have celiac disease, gluten intolerance, or other gluten-related disorders, you may have a negative reaction to any product that contains gluten. Some brands include gluten in their hair care products because it provides protein. There are definitely alternatives to using gluten. I'm glad that brands like Hair La Vie understand this, and they are completely gluten-free. We as consumers have power. As more consumers become mindful of ingredients, it shifts the market. Natural, organic, and gluten-free ingredients are becoming more prevalent than ever which makes me so happy.
Some symptoms to using a gluten-based hair care product may include:
Rashes or bumps
Dry scalp or skin
Hair loss or hair thinning
Burning or itching skin
I recommend testing any new products on a small patch of skin to make sure that you don't have an adverse reaction. If all goes well, then you can try it out on your hair. It's better to be safe than sorry 🙂
What You Need to Know Before You Buy/Use Hair Products:
It makes me feel better when a product is labeled as gluten-free. However, it is also important to read labels. Many brands will label their products as gluten-free which makes it easier for you. I talk more about this on my blog post on My Gluten-Free Criteria When Eating Out and Shopping.
The Food and Drug Administration (FDA) requires that food labels must clearly identify the food source names of any ingredients that are one of the major food allergens or contain any protein derived from a major food allergen. Unfortunately, the FDA does not need to approve what ingredients are added to personal care products. This means we need to do some extra work.
VeryWell Health put together a great list last year, sharing some ingredients to avoid. The following ingredients contain wheat, barley, or rye and thus should be avoided if you're gluten-free:
Triticum vulgare (wheat)
Hordeum vulgare (barley)
Secale cereale (rye)
Wheat germ oil
Hydrolyzed wheat protein
Stearyl dimonium hydroxypropyl (hydrolyzed wheat protein)
Laurdimonium hydroxypropyl (hydrolyzed wheat protein)
Hydrolyzed vegetable protein (may contain wheat)
Dextrin palmitate (starch, possibly gluten-based)
Vitamin E (frequently derived from wheat)
Malt extract (usually barley)
Beta glucan (frequently derived from wheat)
Vegetable protein (may contain wheat, barley, and/or rye)
Just because the product you're looking at doesn't have the above ingredients doesn't necessarily mean it is gluten-free. Gluten-containing ingredients can also hide behind catch-all ingredient names such as "fragrance." If you're unsure whether a product is gluten-free, contact the manufacturer for clarity on their ingredients. Brands and products can change at any given time so it's always a good idea to read the labels. If the product isn't clearly labeled as gluten-free, I highly recommend contacting the manufacturer and asking for a list of gluten-free products. Or move on to another product that is clearly labeled as gluten-free.
How To Protect Yourself When You Go To A Salon:
When you go to a salon, it's important to find out if the products they're going to use on you are gluten-free. I recommend calling ahead of time to let them know that you are gluten-free and to ask what products they use. You can then research the products and see if the ingredients are gluten-free. It may seem awkward to ask but it's worth it. It's more awkward if you have a gluten reaction!
If you aren't entirely comfortable with the salon's products, then you can bring your own gluten-free hair care products to ensure that you are safe. Or you can wash and condition your hair right before your appointment so you don't need to use their shampoo and conditioner. The salon should be understanding, and if they aren't then maybe it's time to find a new salon.
Why I Approve of Hair La Vie:
All of Hair La Vie's products are gluten-free AND work really well! I love that their mission is to empower women to achieve great hair naturally. They don't use any cheap harsh chemicals, synthetic additives, fillers, binders, artificial colors or dyes, or other "secret" ingredients. I like everything I use to be as natural as possible, and I truly believe that good ingredients make a difference.
I work-out daily so I do wash my hair daily. Since I wash my hair often, it's imperative to me that I use a solid shampoo and conditioner. For the last few months, I've been using their shampoo & conditioner daily and masque 1-2 times a week.
The Hair La Vie Shampoo is designed to be a gentle cleanser AND a liquid hair vitamin that can be applied directly to your scalp for fast absorption. ​It infuses your hair with all the good stuff and none of the harmful parabens or fillers. The ​Hair La Vie Conditioner was designed to not only make your hair more manageable, but to give it the healthy, glowing look that we all want!
When I use the Hair La Vie Masque, I feel like I'm having a deep conditioning treatment at a salon! I leave the masque on my hair for about five minutes, focusing mainly on my ends. It defends against dry, lifeless hair and adds lots of hydration.
After brushing my wet hair, I put a dime-sized amount of serum in my hair. The Hair La Vie Serum is the perfect replacement for heavy, silicone-based styling products.​ This oil smells amazing and goes on light, leaving my hair soft and touchable. When I was in high school, I used to borrow my mom's hair serum all the time, and now she wants to use mine! This serum helps reduce keeps my hair tame and frizz-free.
I take a hair vitamin when I need an extra boost. I like that I can take this vitamin by itself with water or incorporate it into a food dish or drink. The Hair La Vie Revitalizing Hair Blend was created to infuse damaged hair follicles with natural antioxidants, vitamins and minerals. It is made up of 20 natural ingredients, including saw palmetto, organic kelp, and horsetail herb.
The Hair La Vie RX Blend recently launched, and it is the first supplement to contain three powerful, hair-enhancing ingredients at levels clinically shown to promote hair growth from within, strengthen existing strands, and improve the hair's appearance in as little as 30 days. This supplement is made for men and women with compromised hair health due to genetic factors, medical treatments, or slow growth. I recommend this vitamin if you're experiencing any hair loss. Some of my family members will be getting this in their Christmas stocking this year 😉
Since using Hair La Vie products daily for the last few months, I can definitely see a difference. My hair feels more hydrated and protected which I love.
Simple Healthy Hair Recipe:
I made delicious gluten-free papaya yogurt bowls for breakfast! I even added in a Hair La Vie hair vitamin for an extra boost. These capsules can be easily opened and incorporated into food and beverages such as smoothies and yogurt bowls.
Here is the recipe:
Ingredients:
1 large papaya
10 oz yogurt
1 Hair La Vie hair vitamin
handful of blackberries
handful of raspberries
1 plum, sliced
1 peach, sliced
1 banana, sliced
handful of coconut flakes
handful of cashews
handful of cacao nibs
Preparation:
Slice the papaya in half, and set each papaya bowl upright. If the bowls are wobbly, you can slice a thin layer off the bottom so they can rest on a flat surface.
Using a large spoon, scoop out the seeds and discard.
Open the hair vitamin, and mix it into the yogurt.
Spoon the yogurt into the papaya bowls. Make sure that you don't completely fill up the bowls since the toppings will make it overflow if it's too full to start with.
Top the papaya bowls with sliced peaches, plums, bananas, blackberries, and raspberries.
Add cashews and cacao nibs to the bowls.
Sprinkle coconut flakes all over the bowls.
This is a Hair La Vie sponsored post. All opinions are my own.