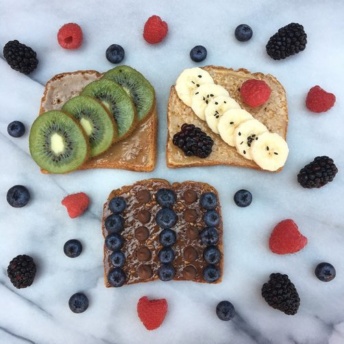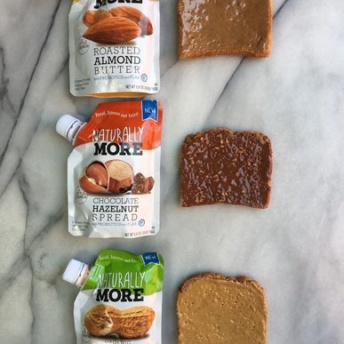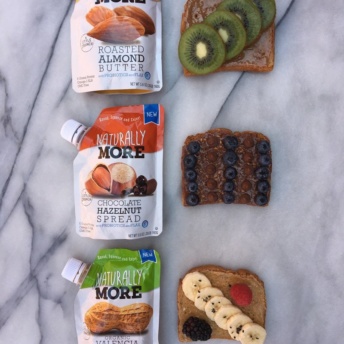 I love nut butter! It's so versatile, and I always keep my kitchen stocked with it. I use it as a spread on gluten free toast, part of my baking creations, and of course just eating some out of the jar when I feel like it!
I recently tried Naturally More, and I'm impressed! Naturally More has nut butter pouches which makes it easy to bring on-the-go. It also was the most spreadable nut butter I've ever put on my toast. Their nut butters are all gluten free, vegan, dairy free, USDA organic, non-GMO, all-natural, and don't contain any trans fat. I tried their roasted almond butter, chocolate hazelnut spread, and Valencia peanut butter. 
If you have a peanut allergy, have no fear! Their peanut free options are made in a separate facility and don't contain any traces of peanuts – only the creamy and crunchy peanut butter flavors contain peanuts.
And, here's a bonus: Naturally More's natural almond and peanut butters include flaxseeds and these probiotics support our immune system, digestive system, and protein utilization to help better absorb the natural protein found in nuts.
If you've been following me for awhile, then you know that I love to make assorted toast combinations. Today was no exception! I made three toasts with Naturally More's three different nut butter pouches:
Toast #1: roasted almond butter topped with sliced kiwi
Toast #2: chocolate hazelnut bread topped with blueberries and chocolate chips
Toast #3: Valencia peanut butter topped with sliced banana, raspberry, blackberry, and sesame seeds
I see toast as a blank canvas for me to add whatever I feel like eating that day! What are your favorite toast spreads and toppings? I love adding fruit, especially berries and then something crunchy or sweet like these chocolate chips.
This is a Naturally More sponsored post. All opinions are my own.