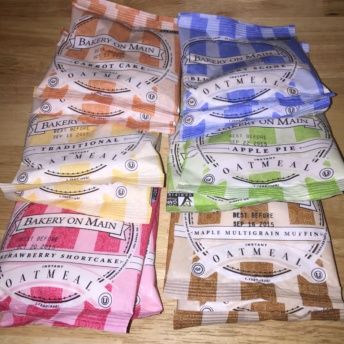 Type of food
Granola / Cereal
Stats
Certified Gluten FreeDairy FreeNon-GMO Project Verified
Product(s)
Ancient grain instant oatmeal with flavors like traditional, apple pie, strawberry shortcake, carrot cake, blueberry scone, & maple multigrain muffin
Granola with flavors like cranberry almond maple flavor, tropically nutty banana, extreme fruit & nut, walnut raisin, and cranberry cashew with natural orange flavor
Granola bars with flavors like double chocolate, oats & honey, peanut butter & chocolate, peanut butter & jelly
Bunches of crunches with flavors like coconut cacao & dark chocolate sea salt. Fiber power granola with flavors like cinnamon raisin & triple berry
Happy oats with flavors like happy quick oats, happy rolled oats, & happy steel cut oats
Organic sprouted grains granola with flavors like blueberry flax, grains & honey, and maple quinoa
Organic happy oats with flavors like organic happy quick oats & organic happy rolled oats
Organic creamy hot breakfast with flavors like amaranth multigrain & quinoa multigrain
Organic happy muesli with flavors like blueberry & super seed.
Certified gluten free, non-GMO project verified, dairy free, high fiber, good source of Omega3 & protein, no trans fats, cholesterol free, all natural.​