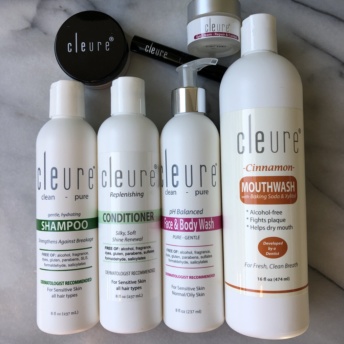 Stats
Gluten FreeDairy FreeVeganEgg Free
Product(s)
Full range of sensitive skincare products that offers skin care, hair care, body care and oral care.
Skin Care:

day cream
night cream
cleanser
toner
emu oil
exfoliating scrub
facial mask
eye repair gel
body lotion
sunscreen
facial lotion
face & body wash
face/body bar
eye cream
deodorant

Oral Care:

toothpaste, mint free
toothpaste, original without flavor
mouthwash
breath spray
toothbrush
travel toothbrush
lip balm
tongue cleaner
fluoride
floss
tinted lip balm

Makeup:

mineral liquid to powder foundation
mineral concealer
LM Foundation
stick mineral blemish concealer
natural mineral finishing powder
LM natural bronzer
eyeliner
blush
nail polish
small kabuki brush
diamond kabuki brush
dual ended shadow/liner eye brush
duo 3-in-1 eye palette
concealer brush
lipliner
mascara
eyeshadow
blush stick
lip gloss
eye shadow
blending brush

Hair Care

shampoo
conditioner
hair styling gel
leave-in conditioning mist
Gluten free, vegan, cruelty-free.
All products are free of salicylates, gluten, Sodium Lauryl Sulfate (SLS), saccharine, fluoride, mint, paraben, basalm of Peru, propylene glycol, lanolin, essential oils, formaldehyde, and fragrance.
Use code GFFM for 20% off site-wide (gift sets & bundle packs not included).