Yellow Cupcakes with White Chocolate Syrup & Rainbow Sprinkles
Ingredients
Better Batter yellow cake mix
3 eggs or egg substitute
1 cup of water
¾ cup of coconut oil
Amoretti white chocolate syrup
rainbow sprinkles
vanilla frosting
Preparation
Preheat oven to 350 degrees, and line 12-cup muffin pan with cupcake liners.
Stir eggs, water, coconut oil, cake mix, key lime extract together until well combined.
Divide the batter evenly among the 18 cupcake liners.
Bake for 18-20 minutes.
Cool the cupcakes in the pan for 10 minutes and then transfer to a wire rack.
Frost cupcakes and top with sprinkles and drizzle with white chocolate syrup.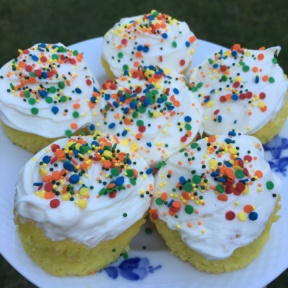 Dish Type:
Dessert, Cupcakes