Vanilla Cupcakes with Peppermint White Chocolate Spread
Ingredients
1 cup butter, softened
1.5 cups granulated sugar
4 eggs
¾ cup milk
2 cups of GF all-purpose flour
½ tsp salt
2 tsp baking powder
2 tsp vanilla extract
Amoretti peppermint white chocolate spread
handful of red M&M's
Preparation
Preheat oven to 350 degrees, and line cupcake liners in a muffin pan. Makes about 18 cupcakes.
Add butter to a bowl, and then add sugar, flour, eggs, milk, vanilla extract.
Stir well until batter is smooth.
Divide the batter evenly among the 18 cupcake liners.
Bake for 18-20 minutes.
Cool the cupcakes, and then transfer to a wire rack.
Frost the cupcakes with peppermint white chocolate spread.
If needed put some of the spread in a microwave safe bowl, and heat in microwave for 15-20 seconds to make a bit thinner.
Frost the cupcakes, and top each one with a red M&M.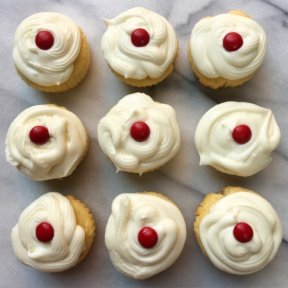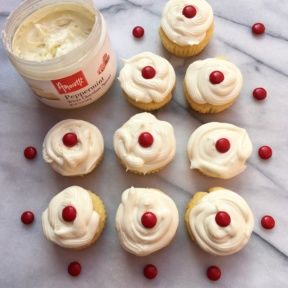 Dish Type:
Dessert, Cupcakes