Key Lime Cupcakes Topped with Peanut Butter Cups
Ingredients
FOR THE CAKE:
FOR THE BUTTERCREAM FROSTING:
3 to 3.5 cups powdered sugar
12 tbsp butter, soft
½ tsp vanilla extract
1 tbsp milk
FOR THE TOPPINGS:
peanut butter cups
rainbow sprinkles
Preparation
Preheat oven to 350 degrees, and line 12-cup muffin pan with cupcake liners.
Stir eggs, water, coconut oil, cake mix, key lime extract together until well combined.
Divide the batter evenly among the 18 cupcake liners.
Bake for 18-20 minutes.
Cool the cupcakes in the pan for 10 minutes and then transfer to a wire rack.
In a medium-sized bowl, combine the powdered sugar, butter, vanilla extract, and milk to make the buttercream frosting. Mix well. Start with 3 cups of powdered sugar and if you need more, then add another ½ cup. If you want more frosting, you can double the amounts for the frosting recipe.
Frost the cupcakes with the buttercream frosting. 
Top cupcakes with peanut butter cups & sprinkles.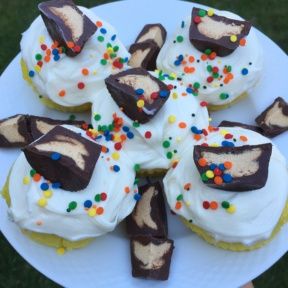 Dish Type:
Dessert, Cupcakes