Yellow Cupcakes with Chocolate Frosting
Ingredients
Better Batter yellow cake mix
3 eggs
1 cup of water
¾ cup of coconut oil
rainbow sprinkles
Preparation
Preheat oven to 350 degrees and line 12-cup muffin pan with cupcake liners.
Stir eggs, water, coconut oil, & cake mix together until well combined.
Divide the batter evenly among the cupcake liners.
Bake for 18-20 minutes.
Cool the cupcakes in the pan for 10 minutes and then transfer to a wire rack.
Add chocolate frosting & sprinkles on top of the cupcakes as you wish.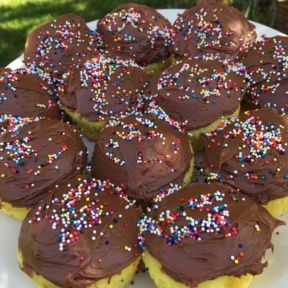 Dish Type:
Dessert, Cupcakes