Vanilla Cupcakes Topped with Candy
Ingredients
½ cup butter
⅔ cup granulated sugar
2 eggs
1 cup GF flour
1 tsp baking soda
2 tsp baking powder
3 tsp vanilla extract
¼ cup milk
cream cheese frosting
Surf Sweets assorted candy
Preparation
Preheat oven to 350 degrees, and line 12-cup muffin pan with cupcake liners.
Stir butter and sugar until light and fluffy.
Add the eggs and beat them.
Add GF flour, baking soda, baking powder, vanilla extract, milk.
Blend until well combined.
Divide the batter evenly among the 18 cupcake liners.
Bake for 18-20 minutes.
Cool the cupcakes in the pan for 10 minutes and then transfer to a wire rack.
Add buttercream frosting & candy on top of the cupcakes as you wish.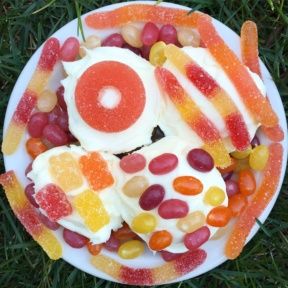 Dish Type:
Dessert, Cupcakes