Honey-Soy Salmon and Stir-Fry Vegetables
Ingredients
10 oz salmon fillets
2 tbsp honey
1 tbsp plus 2 tsp GF soy sauce
4 oz purple cabbage & carrot mix
3 oz sliced crimini mushrooms
4 oz sugar snap peas
3 oz asparagus pieces
1 oz sliced scallions
0.3 oz sesame oil
1 tbsp olive oil
Preparation
Preheat oven to 450 degrees.
Line a baking tray with foil.
Make sauce by stirring honey and 1 tsp soy sauce together in a small bowl.
Place salmon fillets on baking tray.
Spread sauce on tops of salmon, and roast until just cooked through for about 7-9 minutes.
While salmon roasts, heat sesame oil and olive oil in a large nonstick skillet over medium-high heat.
Add mushrooms and scallions (save 1 tbsp of scallions for garnish).
Saute for 3 minutes until mushrooms are browned.
Add cabbage mix, sugar snaps, asparagus pieces, remaining soy sauce, and 1 tbsp water.
Cook under tender which is about 3 minutes.
Divide vegetables and salmon among plates and garnish with reserved scallions.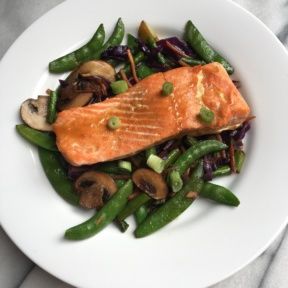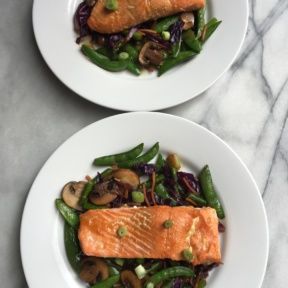 Dish Type:
Entrees, Vegetables