Fusilli Pasta with Tomato Sauce, Veggies, & Soft-Boiled Egg
Ingredients
RP's Pasta fusilli pasta
tomato sauce
zucchini
yellow squash
peppers
tomatoes
1 egg
Preparation
Boil 3 quarts of water and then drop pasta into boiling water.
Boil for 2-3 minutes.
Stir well until bundle has loosened.
Add tomato sauce to pasta.
Sauté the zucchini, yellow squash, & peppers in a pan.
Add the veggies to the pasta, along with tomatoes.
Soft boil an egg & add it to the pasta as well.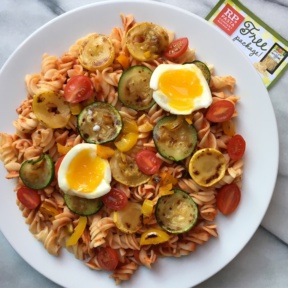 Dish Type:
Entrees, Pasta, Vegetables, Eggs