Flourless Chocolate Peanut Butter Chip Cookies
Ingredients
1 egg
1 cup peanut butter
⅓ cup brown sugar
¼ cup cocoa powder
1 tsp baking soda
½ tsp vanilla extract
¾ cup peanut butter chips
1 tbsp Great Lakes Gelatin unflavored collagen (optional)
Preparation
Preheat oven to 350 degrees.
In a medium bowl, combine the eggs and peanut butter.
Add in the brown sugar, cocoa powder, baking soda, vanilla extract.
Can add collagen which is great for hair, skin, nails, joints, & digestion and doesn't taste like anything.
Mix well, and add in peanut butter chips.
Roll balls of cookie dough, and bake for 10 minutes.
Makes about 24 cookies.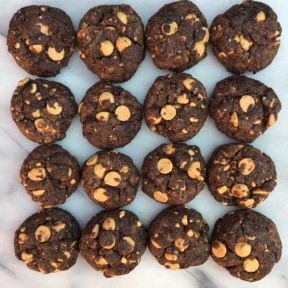 Dish Type:
Dessert, Cookies