Chocolate Chip Facon Cookies
Ingredients
Jack's Gourmet facon
2 ½ cups GF flour
1 cup brown sugar
¾ cup granulated sugar
1 cup butter
2 eggs
1 ½ tsp vanilla
1 tsp baking powder
1 tsp baking soda
½ tsp salt
6 oz chocolate chips
Preparation
Preheat oven to 325 degrees.
Cook facon and once cool, cut the facon into ¼ inch pieces.
In a bowl, mix brown sugar, granulated sugar, butter, & vanilla until well blended.
Beat in eggs.
In another bowl, mix white rice flour, baking powder, baking soda, & salt until well blended.
Stir flour mixture into butter mixture.
Stir in chocolate chips & facon.
On ungreased cookie sheets, roll balls of cookie dough.
Bake for about 10 minutes or until lightly browned.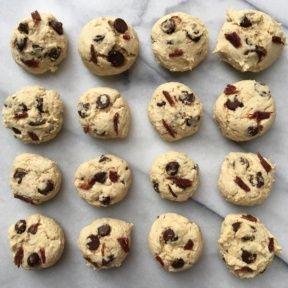 Dish Type:
Dessert, Cookies