Beet Sugar Cookies with Beet Icing
Total time
1 hours 10 mins
Ingredients
Cookies:
1 egg
½ cup almond butter
¼ cup brown sugar
¼ cup granulated sugar
¼ cup GF flour
3 tbsp beet puree via Love Beets roasted beets
1 tsp pure vanilla extract
Frosting:
¼ cup butter
4 oz cream cheese
1.5 cup sugar
½ tsp vanilla extract
2 tbsp Love Beets beet powder
Preparation
To puree the beets, you can first roast them for 40 minutes and then puree them in a blender or can use the same amount in beet powder instead of beet puree.
Preheat oven to 375 degrees.
In a medium-sized bowl, add egg, almond butter, brown sugar, & granulated sugar, and mix well.
Then add in the flour, beet puree, & vanilla extract, and mix well.
If needed, refrigerate the cookie batter to make it less liquidy.
Lay parchment paper on baking tray, and make 24 cookies.
Bake for 10 minutes.
As the cookies are baking, make the icing by combining butter, cream cheese, and vanilla extract in a medium-sized bowl.
Mix well, and then add in the sugar.
Mix well, adding in beet powder, and again mix well.
Once the cookies are cool, top with icing and then rainbow sprinkles.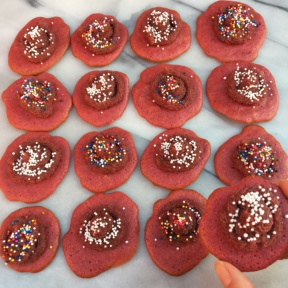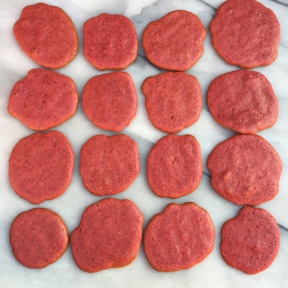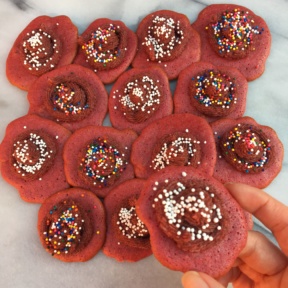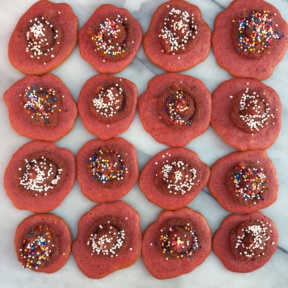 Dish Type:
Dessert, Cookies