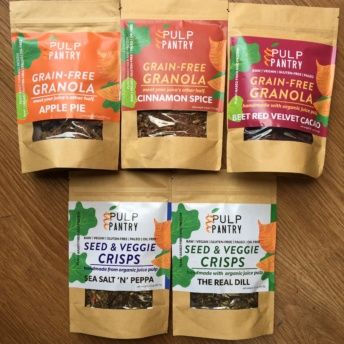 Type of food
Baking MixCrackersFlourGranola / CerealSeeds & GrainsVegetables
Stats
Gluten FreePaleoGrain FreeDairy FreeVeganNo Refined Sugars
Product(s)
Grain free granola in flavors like peanut butter & apple & carrot, beet red velvet cacao, apple pie, carrot spice, & you're so original.
Grain free seed & veggie crisps in flavors like sea salt n' peppa, the real dill.
Baking mixes & powders in flavors like almond joy, carrot cinnamon spice, & beet red velvet.
Gluten free, paleo, grain free, plant-based, refined sugar free, dairy free, vegan, made with organic juice pulp.