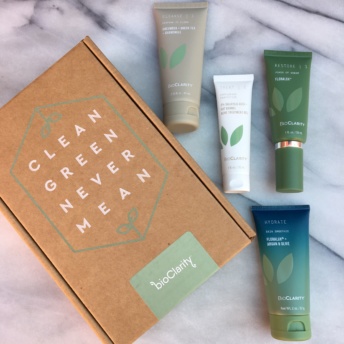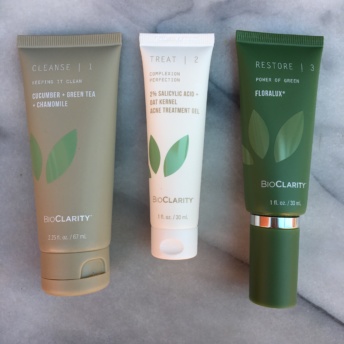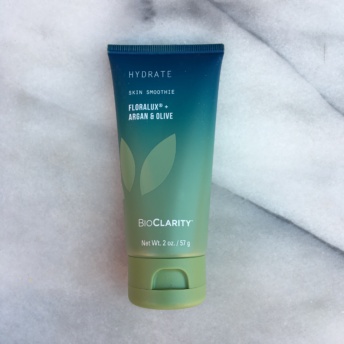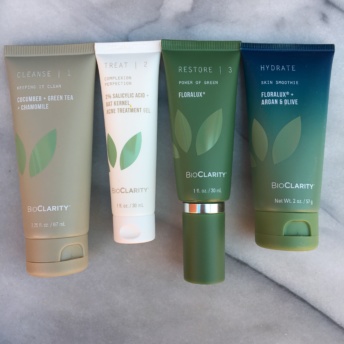 Product(s)
3-step clearing system that harnesses the smarts of science and power of plants to help achieve healthy, balanced, clear skin without harsh side effects

Step 1: Cleanser
Step 2: Treatment
Step 3: Restore Gel

Hydrate Skin Smoothie which is an oil-free moisturizer
Gluten free, vegan, cruelty-free, toxic-free, paraben-free, sulfate-free, clinically-proven. 
Clinically proven to fight acne, soothe skin, reduce pore size, minimize redness, and even out the skin tone gently yet effectively.
Suitable for all skin types (oily, dry, combination, normal, & sensitive).
Has Floralux which is a plant-based ingredient formed from chlorophyll.
Floralux detoxifies, protects healthy cells, has antioxidant properties, contains anti-aging vitamins A,C,E, and K, heals wounds, and helps keep systems in balance.
Formulated with nourishing plant extracts such as chamomile, green tea, cucumber, oat kernel, licorice root, Floralux, and salicylic acid.